On 2 November 2015 Live performing of Incontro XL door Andre heuvelman Codarts Brass ensemble, Choire and lipstick duo op de inspratie bijeenkomst voor Marc& Philp die zijn omgekomen op hun pool reizen een reaktie hierop door Liselotte
et slotstuk "

Incontro

", gecomponeerd door Eddy Koopman, zorgt voor collectieve ontroering in de zaal. De muzikanten en het koor, ze brengen dit stuk met zoveel gevoel en emotie dat het de hele zaal overweldigt, emotioneert en diep raakt. Je voelt in alles de liefde voor de medemens. Zo troost je een nabestaande die zijn of haar dierbare is kwijtgeraakt.
on bloc by liselotte mentink on blog over de inspiratie middag voor de omgekomen Nederlandse poolreizigers Marc& Philip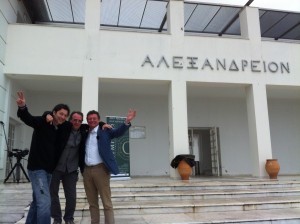 Olympolis Music & Art Projekt 2013
Lithogoro Griekenland op 3 Augustus 2013
World Premiere Ode To Olympus
Olympolis Art & Music projekt 3 aug 2013

NIEUW !!!
Andre Heuvelman en Eddy Koopman tijdens de opnamedag van de videoclip voor Incontro .
Het muziekstuk Incontro is gecomponeerd door Eddy Koopman voor de CD After Silence van trompetist Andre Heuvelman. (29 mei 2013)