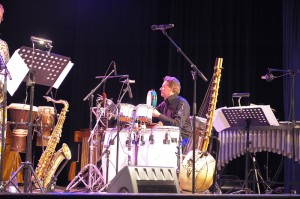 Eddy Koopman is a composer/producer and works as principal percussionist since 1989 with the Dutch Metropole Orchestra, the Netherlands leading light music orchestra. Additionally, Eddy works as a freelance musician by various leading national and international bands/orchestra's
Eddy has worked with many national and international artists such as: Wende Snijders, Trijntje Oosterhuis, Blof, Huub van der Lubbe, Marco Borsato, Willeke Alberti, Paul de Leeuw, Herby Hancock, John Scofield, Terry Bozzio, Joe Zamuel, Pat Metheny, Jean 'Toots' Thielemans, George Duke, Terry Bozzio, Shirley Bassey, Gino Vanelli, Lucie Silvas, Elvis Costello, Sezen Aksu, Oleta Adams.etc.
As a composer/arranger, Eddy Koopman writes and recorded music for a number of TV-series in his own studio and has written compositions and arrangements for members of the Rotterdam Philharmonic Orchestra and the Metropole Orchestra.
In addition to this, Eddy composes and publishes his own music both as a solo artist and in combination with other professional musicians.